Please click here for our product range:
Products
---
Products
Standard customer ranges
Are you looking for a new range for your self-service haberdashery department, selected according to your needs?
Have we piqued your interest?
... then you can count on us and we will be at your side with more than 20 years of experience and advise you. You can put together your personal collection with us from over 3000 different articles in different colors.

Note the many options for presentation and range design, e.g. Self-service cards (1-3 meters), small rolls 3-5 meters, uniform roll or reel presentation (5m to 25m) or e.g. Coupons. For years, we have been using barcodes to label goods, including customer-specific ones.
---
Special Offers
Please click the link and take a look at our special offers. Prices and stocks are available on request.
---
Sandy's life
New in our program:
Sandys life!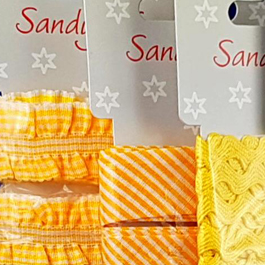 We have a selection of printed satin and grosgrain ribbons wound on our self-service cards - from CUPCAKES to UNION JACK - everything is included.

Ask for an offer or get in touch with one of your EMS contacts.

Your EMS-Team